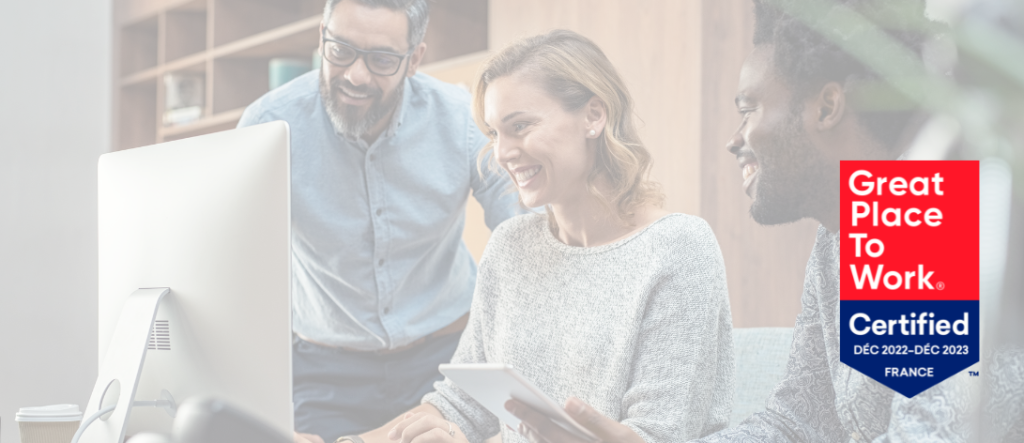 CAPZA is certified Great Place To Work® in France
CAPZA joins the community of companies recognized as employee-validated great workplaces!
CAPZA has been promoting a strong independent culture based on team spirit, humility, entrepreneurship and integrity since its creation in 2004. Today, this culture makes it possible to receive the Great Place To Work Certification® in France1 and to join the community of companies recognized as great workplaces.
This approach is not common in the private equity sector: to date, only one other private equity fund is Great Place To Work-Certified™ in France.  However, we believe that, in the spirit of reciprocity, we should have the same high standards as our portfolio companies.
Last November, we invited all our employees² to answer an anonymous 62-question survey administered by Great Place To Work®, giving them the opportunity to express their sincere feelings about their daily lives within the company.
Many thanks to all the CAPZA teams for their recognition and this expression of trust: through their involvement, their passion and their daily good mood, THEY make CAPZA a "Great Place to Work"!
We know there is still a long way to go and we are convinced that listening to and taking into account the opinions of our employees will help us to further improve well-being at work and grow our corporate culture.
88%
of employees answered the survey
85%
think that CAPZA is a great place to work
90%
are proud to say they work at CAPZA
78%
Average positive answers to the Trust Index©
Great Place To Work®
Great Place To Work® is the global authority on workplace culture.
Since 1992, Great Place To Work has surveyed more than 100 million employees around 60 countries and used deep insights to define what makes a great workplace: trust. Great Place to Work helps organizations quantify their culture and produce better business results by creating a high-trust work experience for all employees. Its unparalleled benchmark data is used to recognize Great Place to Work-Certified™ companies and the Best Workplaces™ in the US and more than 60 countries, including the 100 Best Companies to Work For® and World's Best list published annually in Fortune.
Great Place To Work certification®
Valid for one year, the Great Place To Work® Certification rewards companies where it is good to work.
To be certified, companies must carry out a diagnosis of their employee experience and obtain a minimum score of 65% of positive responses to the Trust Index© survey.
1 December 2022-December 2023
2 We surveyed all of our employees who arrived before the end of September 2022, including interns.