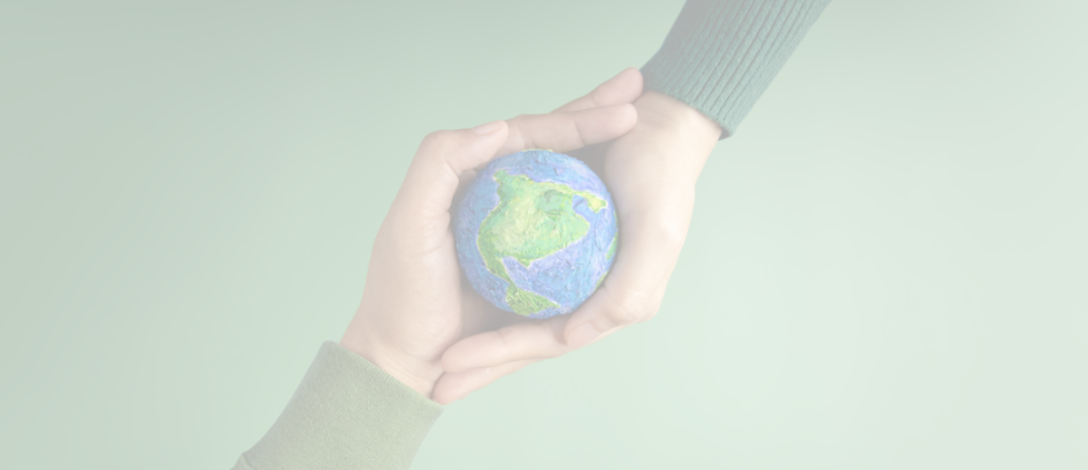 Sustainability, from commitments to concrete actions
On 28 June 2023, CAPZA brought together business leaders and investors for a conference on sustainability.
On 28 June 2023, CAPZA brought together business leaders and investors for a conference on sustainability. The purpose was to put the realities of business leaders in perspective versus the challenges associated with sustainable development imperatives.
The conference started with a presentation by Bertrand Dumazy, CEO, of Edenred Group, who began by outlining the underlying trends that are driving companies to put sustainability at the heart of their agenda:
77% of consumers are motivated to buy from companies with CSR commitments
70% of talented people do not want to work for a company that is not aligned with their values
74% of investors disengage from companies whose CSR positioning is considered mediocre
He recalled that CSR had been a key component of Edenred's DNA for over 10 years, with three dominant priorities, each with clear indicators and objectives:
improving the lives of individuals (People)
preserving the planet (Planet)
creating value responsibly (Progress)
This approach has enabled the Group to improve the ratings of ESG agencies and receive numerous awards.
The main challenges in implementing such a strategy:
Clearly communicating objectives internally and externally
Defining concrete commitments: "You can only improve what you can measure"
Involving the whole organisation: incentive mechanisms linked to ESG indicators, valuing internal initiatives, etc.
« Lead by example »: ensuring that the management team embodies the Group's values.
What to take away from his speech:
It's not a question of means, it's a question of desire
"Start small": there are no small projects or small steps forward
Constraint creates creativity
Green industry roundtable
• Damien Adam, Member of Parliament for Seine-Maritime, member of the Committee on Sustainable Development and parliamentary coordinator of the section in charge of the financing of French green industry, for the Green Industry Bill • Nicolas Giraud, CEO, Mayoly Splinder (pharmaceutical firm) • And Gildas Bouilly, CEO, Eternity Systems (industrial cleaning of reusable containers)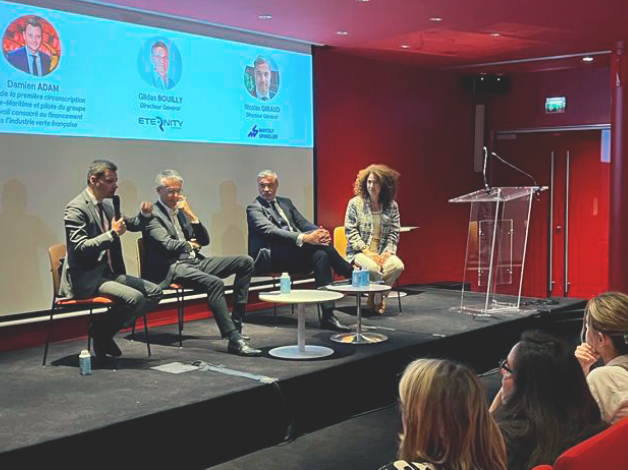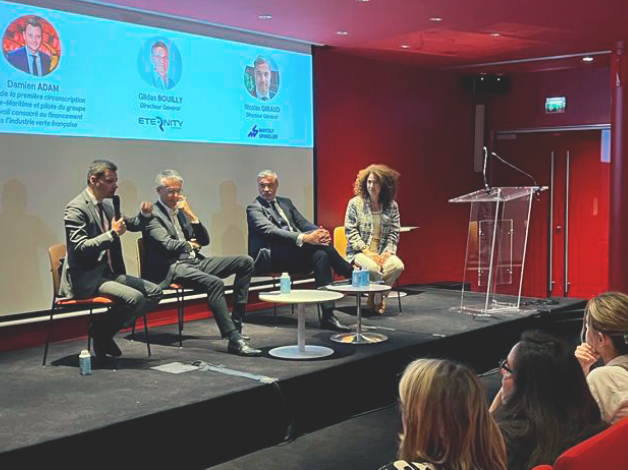 When the concept of "green industry" comes up in public debate, it is often confused with environmental transition technologies (wind power, photovoltaics, batteries, heat pumps, hydrogen, etc.). However, beyond the creation of new green industries, how can we ensure the transition of existing industries, which represent the major part of the challenge, because they are our country's economic and industrial backbone?
By setting targets in line with the Paris Agreement, driven by CAPZA, we are making it easier for everyone to get involved. Indeed, the question is not "can we do it?", but "how are we going to do it?".
Nicolas Giraud, Mayoly Spindler
French Green Industry Bill
THE FINDINGS
Massive deindustrialization stopped in 2017 in France:
In 50 years, the industry's share of national wealth has been halved
Today, France is producing again: 90,000 net industrial jobs created since 2017
In the face of climate change, we need to reduce the environmental impact of industry and encourage French industrial production.
The industry represents 18% of the total annual greenhouse gas emissions in France.
THE AMBITION
Make France the green industry leader in Europe:
Creating green industries
Decarbonising existing industries
THE LEVERS
15 measures to Facilitate / Finance / Encourage / Train.
What type of environmental issues is your company facing? 
Nicolas Giraud, Mayoly Spindler:
Mayoly Spindler is a French pharmaceutical laboratory with 2,200 employees and 6 production sites, 5 of which are located in France. 86% of the products we sell worldwide – in over 100 countries – are manufactured in France.
Today, choosing to be a manufacturer in France is associated with costs and constraints, and major environmental and social challenges.
First and foremost, we must ensure the quality and safety of our products for patients and consumers. But also, as a manufacturer operating in residential areas (Dreux, Chatou, Dammarie les Lys), we have to limit our environmental footprint, i.e. carbon footprint and waste management. We also have social challenges: attracting talents, training and retaining them. Especially with challenging working conditions, we produce in 4 shifts (i.e., at weekends) to meet our production obligations.
Gildas Bouilly, Eternity Systems:
Eternity Systems specialises in industrial cleaning of reusable containers, with 1,400 employees in 16 locations in 6 countries. We wash reusable containers throughout the supply chain, such as supermarket fruit and vegetable containers. So we're at the heart of the circular economy. Washing requires people, water and energy. The human component is therefore at the heart of our concerns, and our teams have been including the reduction of water and energy consumption in their KPIs for a very long time.
What challenges do you face in reducing your environmental footprint?
Nicolas Giraud, Mayoly Spindler:
When it comes to reducing our environmental footprint, we are often faced with contradictory injunctions.
For example, the regulations governing medicinal products stipulate a minimum font size as well as compulsory information to be printed on the boxes of medications. Also, leaflets have to be inserted in the boxes. This means a lot of cardboard is used for packaging and a lot of paper. Today, the regulator is not prepared to run the risk of digitalising the leaflets. For our part, we have to take these constraints into account and identify the levers on which we can act.
Another example: when China reopened its borders, we had to deliver the equivalent of 5 months' worth of SMECTA because of rumours about the symptoms of the new variant. So we rushed the equivalent of 8 aircraft full of SMECTA to China. Despite the carbon footprint, we have a responsibility to make products available to patients.
Another example in dermo-cosmetics: consumers want a 'green' and efficient product with pleasant textures, so we have to find a balance to satisfy these requirements.
Finally, we also have major financial implications in terms of decarbonisation, because when we make investments to reduce the carbon footprint of a plant, the cost is not passed on to the product – the price of our medication is regulated by the health authorities.
Gildas Bouilly, Eternity Systems:
Today, we are already optimising our use of resources: we reuse over 70% of the water we consume, and one volume of water can be reused up to 300 times. However, we have to manage regulations that have different approaches in each country, particularly when it comes to reusing water, which seats between health and environmental regulations.
For example, we have a small water treatment plant in Bordeaux, which discharges clean water into the natural environment for irrigation. We would aim to be able to reuse this water to rinse our crates, but health standards do not currently allow this. In Spain, where water has always been a major issue, the water reuse rate is 11%, compared with 2% in France.
Another example is Germany, which offers subsidies for companies that install co-generation systems (simultaneous production of thermal and mechanical energy in the same installation), whereas this is much more complicated in France.
Repositioning our brand in the circular economy has given us access to a new pool of talent.
Gildas Bouilly, Eternity Systems
Another crucial issue for our companies, and one that is at the heart of the Green Industry Bill, is employment and talent. Gildas, is it easier or harder for you to attract new talent since you repositioned Eternity Systems as a player in the circular economy?
Gildas Bouilly, Eternity Systems:
Since we repositioned ourselves as a player in the circular economy and communicate as such, we have had access to a new pool of talents, particularly for senior positions. This positioning is also a source of pride for our teams, whatever their seniority; however, recruitment is difficult on the technical side. We have developed partnerships with technical colleges, and we encourage apprenticeships, but there is a lot of turnover in these positions.
Nicolas, do you agree with this assessment?
Nicolas Giraud, Mayoly Spindler:
More and more people are asking about CSR policy during the recruitment process, whether it is environmental or social, talent management, mobility, diversity and so on. Salary is one point, but many other things are attracting the younger generation.
To illustrate the commitment of our employees, and the reality of our CSR approach on the ground, I can give the example of our site at Isle sur la Sorgue, which produces SMECTA for the whole world. This production requires a lot of water, in a region where water is a treasure. So we built a water reprocessing plant, which allows us to return 99.8% of the water we pump back into the local river (purer than when we pumped it). Also, every year, all the plant's employees spend a day helping to clean up the river. These tangible benefits enable us to attract people because they see the local reality of our commitment.
Finally, like Eternity Systems, we are experiencing real difficulties in recruiting for jobs that are in short supply, such as laboratory technicians and operators. It takes between 9 and 12 months to train them, and then they move on to the competition. We need to succeed in retaining the talent we train. Retaining talent is just as important as attracting talent.
How is the CAPZA Flex Equity Mid-Market II fund, which has a decarbonisation objective in line with the Paris Agreement, helping you to accelerate on this issue?
Nicolas Giraud, Mayoly Spindler:
The arrival of CAPZA in Mayoly Spindler's capital has accelerated our decarbonisation and biodiversity trajectory, with a more professional approach.
First, CAPZA is helping us to structure our thinking, our strategies and our priorities. We were already doing a lot of things, without necessarily coordinating or communicating internally or externally.
Secondly, by implementing objectives in line with the Paris Agreement, we are making it easier for everyone to get involved. The question is not "Can we do it", but "How are we going to do it", and with quantitative targets.
Lastly, CAPZA puts us in touch with several companies that are familiar with our rather specific environment and can respond precisely to our needs.
Awards
Sustainability& Impact 2023
As part of CAPZA's ESG reporting, over 110 companies were questioned on more than 100 issues relating to the various aspects of their CSR policy. The winners are:

Best footprint
Questel: world leader in intellectual property
Since 2019, Questel has developed a comprehensive CSR policy. The company has defined quantified objectives and is committed to continuous improvement. In 2023, Questel became a mission-driven company and was awarded the Ecovadis Gold Medal. Questel has set itself an ambitious plan to achieve by 2025.
Audensiel: digital transformation consultancy
Audensiel is a company with a mission, committed to CSR.

Best ESG progression
Eternity Systems: industrial cleaning, a player in the circular economy
In 2022, Eternity Systems feminised its operational governance in a predominantly male environment. The company has also introduced continuous improvement tools and an energy plan to optimise its consumption.
Best ESG initiative

Advens: a pure player in cybersecurity
Advens has implemented an innovative shareholder commitment, with a system of retrocession of value to an endowment fund. The Advens endowment fund focuses on three themes: inclusion, education and sustainability.